These food trucks are doing a great job of taking over the food game. Kogi really made a big impact on all these great chef's that didn't have much of a budget to create a restaurant. Some of the food I've had from these trucks are better than restaurant food themselves. The OC fairgrounds has a weekly event of food trucks coming to the area and we came out to see what they had in store. I came out overly full and tapped the happiness from my tastebuds.

A strong lineup  of  food trucks.
Using YELP to figure out what I should order.
I'm glad we got here early before it got packed.
Skirt steak taco and pork sliders from Piaggio on wheels.
The best hot dog I've ever eaten. The furikake dog from Dogzilla.
Marilyn got the Moo-lan Rouge from Chunknchip. This was a red velvet cookie with white chocolate ice cream.
Yogurtland style of shaved ice. We should've tried the Tiger's blood flavor.
Short rib tacos from Calbi BBQ.
From the pictures I'm sure you understand how much of a food coma I was in.
Written by. David Allen
Over the weekend IMKING attended the Damn Am 2010 contest. This
event is a qualifier for the big show Tampa Am in Tampa, Florida. Damn Am
is one of the biggest skateboard contests in Orange County and has been
going strong for the past 10 years. This year we had four skateboarders,
who we support, competing in the contest. Felipe Nery, Luie Isais, Edgar
Barrera, and JP Souza. These guys are amazing people as  well as
skateboarders. IMKING supports their efforts and determination in making
an impact on the skateboard community.
Good Job guys!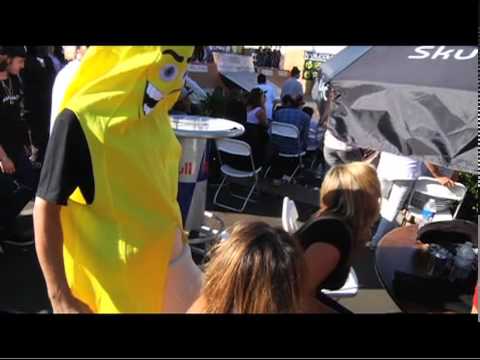 The release of Wafeek's mixtape "Monster" presented by IMKING and 2dopeboyz dropping this week! Here is the 2nd leak "Just Go." Enjoy! The video of "Just Go" is also viewable below.
Download Link: Wafeek – Just Go